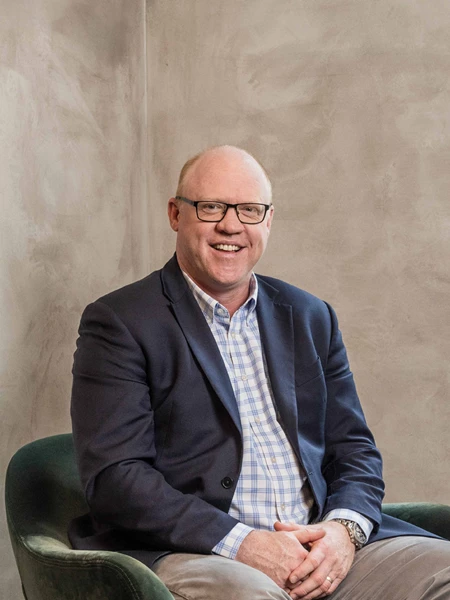 "My principal role is bringing together a group of talented people to tap into their synergy and creativity to solve a common problem. I'm a staunch believer in the Power of People and the premise that 'the whole is greater than the sum of the parts'
After completing an Economics degree, my working career started in investment banking in the 1990s, and over the years, has broadened into the wider financial services and fintech arenas."

What gets him up in the morning
"Working in a team with a common goal to help improve the way businesses work is what really gets me going. I thrive on helping businesses with aspirations to transform, grow and flourish. Few things deliver better results than the camaraderie and spirit of a close-knit team all pulling in the same direction."

When he's not at work
"My time away from work is spent with my wife and three children, mainly as a taxi-driver, coach and motivator. Being a sports-mad family, I am usually coaching rugby, cricket, hockey, athletics or netball on the weekends. Few things bring me more pleasure than helping children realise and grow their potential. But mountain biking and a good barbeque with friends & family come a close second!"
His role at Puma
"Upon joining Puma in 2021 as Head of Digital Transformation, one of my first objectives was to meet with all business areas to get first-hand information on their current technology footprint, and their end-to-end process flows, their manually intensive areas and pain points, and their ambitions.
Taking this, together with the overarching business strategy and the help of my enthusiastic colleagues, we drew up a Roadmap to move Puma up the Digital & Tech curve in the next few years.
Great progress has been made in the last year as we build out Puma's tech platform to provide the efficiencies and functionality needed to deliver transformational change to support business growth.
In 2023 I moved into the CTO role, responsible for both Digital Transformation and IT Infrastructure across the Puma group.  We have recently embarked upon a major rearchitecting & infrastructure project to further invest in and develop our Tech & Digital offering.
With the help and support of the great team at Puma, I am certain that we will continue to improve how we operate internally and for our clients' benefit."
His previous experience
"In my career, I've purposefully sought out roles to expand and diversify my experience and skill set. This has included time spent in Product Control, Risk, Credit, Derivatives, Business Management, and Sales, with a strong focus on Project Management, Technology and Consulting. This has been at organisations such as Deloitte, Barclays, UBS, Dresdner Kleinwort, JP Morgan, and HSBC.
My core skillset lies in Transformation, with 20+ years' experience of growing businesses by optimising their front-to-back processes, systems, dataflows, structure & governance and building high-performance teams to deliver greater value and productivity.
The emphasis has always been on streamlining and automating wherever possible to improve efficiency & cost savings. To this end, I work closely with some great tech partners, such as Solution Architects, Software Engineers, Developers, Testers, and UX/UI professionals, to help transform manual and disparate organisations into dynamic businesses with enhanced Operating Models and Customer Journeys."
WORKING WITH PUMA
Hear from our people
Our talented team come from various backgrounds - from eye surgeons to economists to historians and barristers. Why not find out more about why some of them work at Puma and what they think makes our organisation unique?
Ivy Quan
Senior People Manager, 
Puma Capital Group
Eliot Kaye
Managing Director,
Puma Property Finance
Naveli Ahuja-Mehra
Head of Finance, 
Puma Capital Group
Jack Salisbury
Head of Internal Business Development,
Puma Investments
Karen Makomereh
Head of Operations,
Puma Investments
George Clelland
Investment Product Manager,
Puma Investments
Joe Cornwall
Investment Manager,
Puma Public Markets